Writing
We teach pupils to write fluently so that they can communicate their ideas and emotions to others and others can communicate with them. Learning to write takes time and there are lots of skills to master.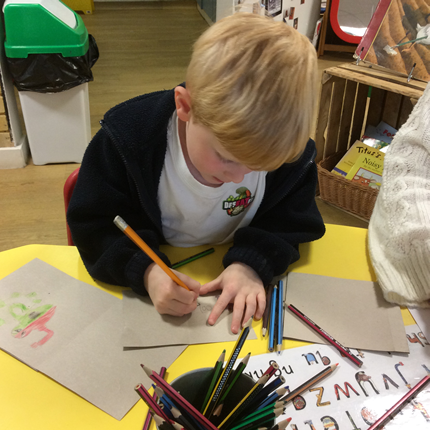 Handwriting:
We use Kinetic letters handwriting at Calmore to help us learn how to form our letters effectively. This helps make our handwriting automatic. This uses a multisensory approach to develop the muscles in our body that enable us to be a competent writer. We do lots of exercises to make sure that our bodies are strong and ready to help us learn.
We learn how to form our letters using 2 monkeys to remind us where to start; the Brave monkey starts at the top of the tree and the Scared monkey halfway down. We love learning our letter families and making sure we write neatly with our bumps and flicks.
Our aim is that all the attention of the brain can be on the content and that children are able to write fast and effectively.

Automaticity - Formation, orientation and placement of letters becomes automatic which frees up space in the working memory.
Achievement - Fast legible and fluent handwriting underpins success in every curriculum area.
Confidence- Good handwriting is automatic, the brain can concentrate on content.
Reading - Writing and reading are reciprocal skills, so improvement in one, helps the other.
Phonics and Spelling - Legible handwriting means children can read and correct spelling.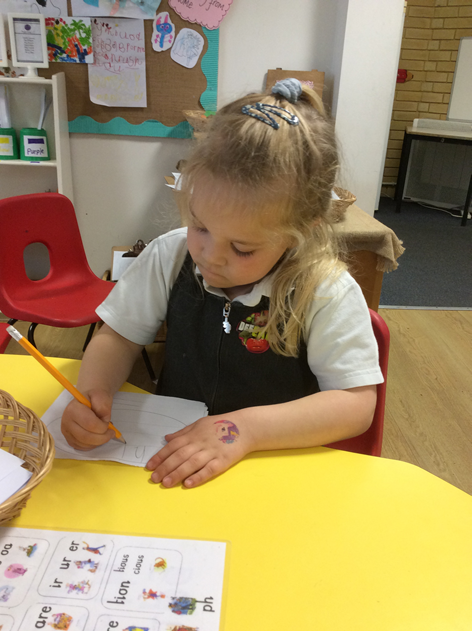 At Calmore Infant School we love writing. Whether we are writing a story, writing instructions to share with others or writing letters, we are keen to apply what we know.
We challenge ourselves and improve our work. In our school, children are given lots of opportunities to develop the skills needed to write with confidence, learning the integral parts of writing to be successful.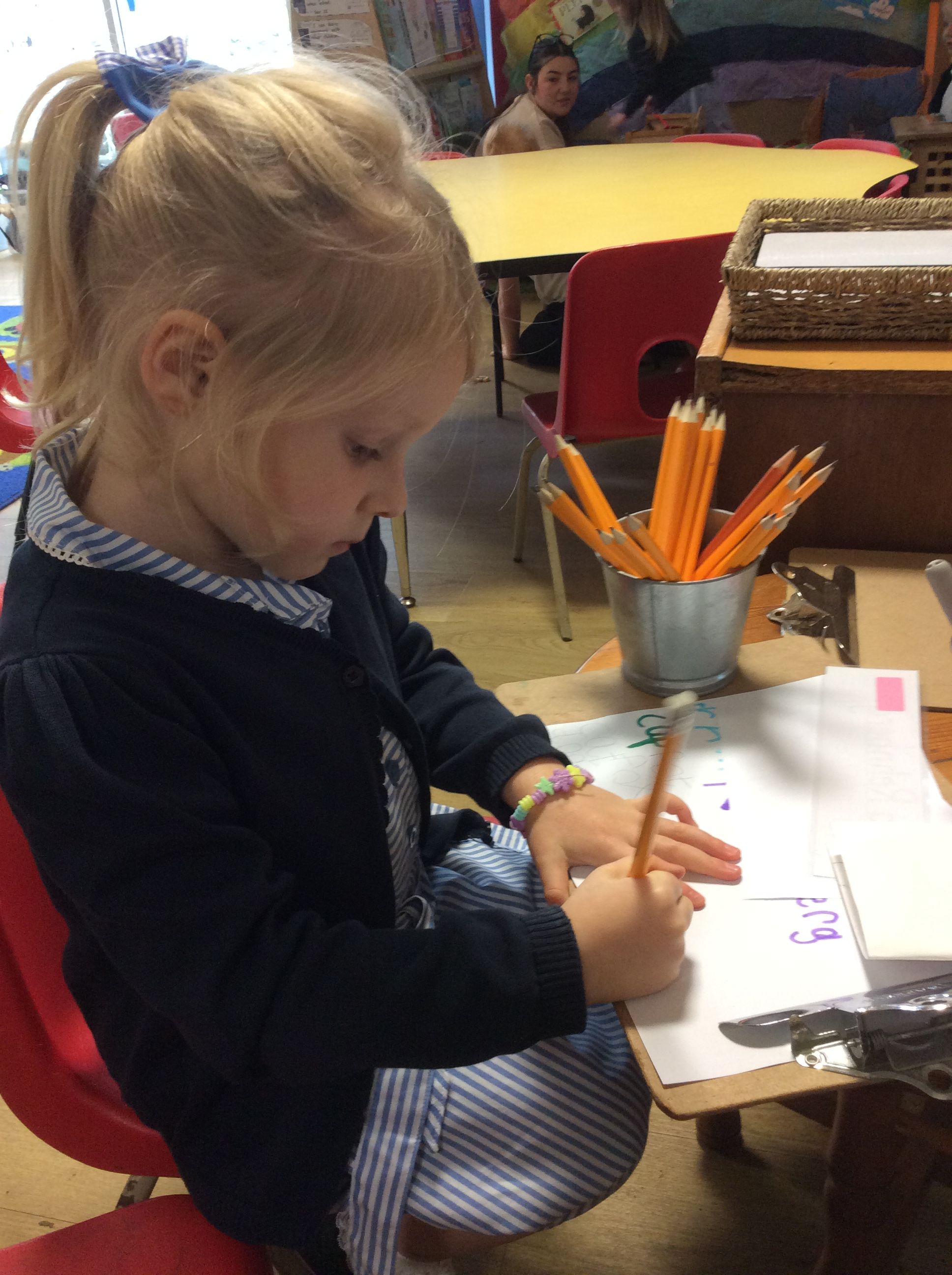 At Calmore Infants we aim to develop children's spoken language, reading, writing and vocabulary as integral aspects of the teaching of every subject. We teach the knowledge, understanding and skills they require for writing in the Early Years Foundation Stage and Key Stage 1.
Our curriculum is purposeful for all pupils and enables them to apply their learning in different ways and to varying depths so that they become independent learners.
Children will be challenged to apply their understanding creatively, connecting learning together from a range of objectives and in alternative and unique contexts. Those who are not confident will be supported to consolidate their understanding through targeted teaching before moving on.
We aim for children to leave Calmore as confident speakers with a secure understanding of the English curriculum content, a love of literature, a willingness to read and write and the desire to challenge themselves and improve.
Click on the links below to see our writing overviews.