History
Our Calmore History Curriculum
A high-quality history education will help pupils gain a coherent knowledge and understanding of Britain's past and that of the wider world. It should inspire pupils' curiosity to know more about the past. Teaching should equip pupils to ask perceptive questions, think critically, weigh evidence, sift arguments, and develop perspective and judgement. History helps pupils to understand the complexity of people's lives, the process of change, the diversity of societies and relationships between different groups, as well as their own identity and the challenges of their time.
At Calmore Infant School we teach History through our Integrated Curriculum projects.
Our history curriculum is inclusive of all children and is purposeful and meaningful. The enquiry based topics enables children to be engaged, curious and instil a love of finding out about the past. Children will learn to make links in their learning and build upon previously taught skills to become independent and inspired learners. The curriculum is taught through classroom learning, educational visits and artefacts and children have the opportunity to consolidate their learning though continuous provision.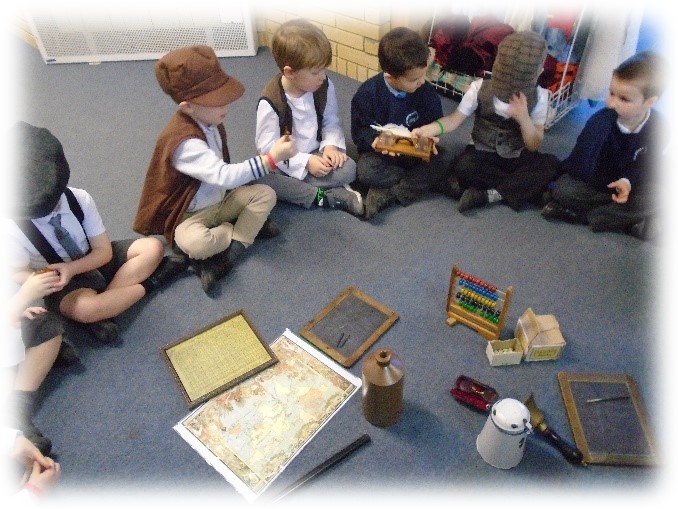 Progression of skills
There are 7 key skills that are taught and built upon as children progress through EYFS and KS1. The Development Matters document outlines the skills children should learn that form a foundation for historical thinking. These skills are taught through hands on, explorative and relevant experiences and then built upon in KS1.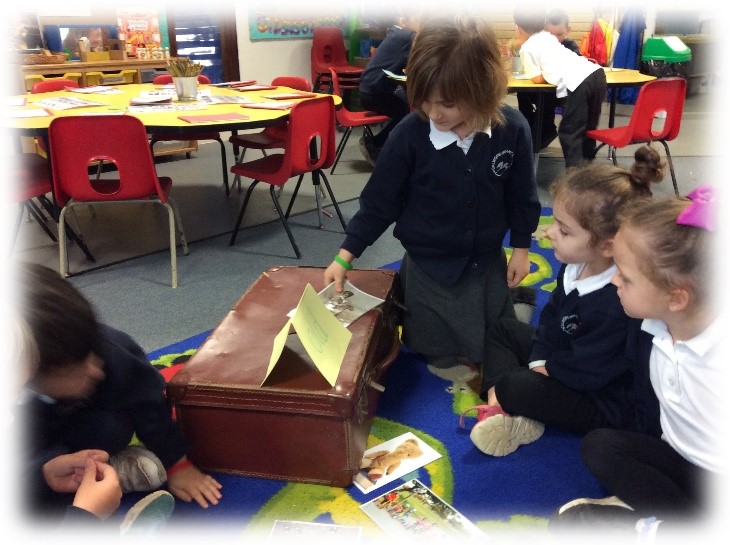 In Key Stage 1, every skill is taught in depth at least once and skills are revisited multiple times to consolidate and ensure children do not have gaps in their learning. The skills learned in year 1 are built upon in year 2 and children's thinking is stretched. Our enquiry based teaching ensures progression in critical thinking through questioning, examining sources and using offsite visits and artefact boxes to draw conclusions.
What does greater depth look like?
Make links between different periods of history and to other subject areas.

Think critically and question.

Explore different historical sources and understand the importance of having a variety of different sources.

Organise thoughts and ideas with good chronological understanding.

Able to form opinions and justify ideas with evidence during historical debates.
What does assessment look like in History?
In Early Years History is assessed using:
Observations

Discussions

Circle times

Role Play

Children using their 'All About Me' books

Outdoor area

Speaking and listening

Small world areas
When children start in year R, they explore and learn History through Communication and Language and Understanding the World. Their existing skills and understanding in this area is assessed by a baseline assessment conducted in Autumn term and then is assessed throughout the year using the above methods. At the end of the year, the teacher makes a judgement that encompasses all teacher assessment completed throughout the year. This data is then passed on to the Year 1 teachers to ensure any learning/skills are revisited if needed.